Harare, 2018– Higherlife Foundation and its partner B'tzal'el Impact Investment Fund have released a music album entitled 'Project Hope' that shares a message of hope, peace and reconciliation. The album which was inspired by the beauty of Zimbabwe- its people, landscape and ingenuity- as well as the 1998 Guatemala Prophecy by Cindy Jacobs which spoke of Zimbabwe's restoration; is a compilation of 16 songs by some of Zimbabwe's top artists such as Oliver Mtukudzi, Jah Prayzah, Prudence Katomeni and Alexio Kawara.
The 16 track album is produced by renowned producers MacDee, Spirit Fingers, Reverb7, Cornelius Maponga and Mark Marko and spans different musical genres to bring the story of hope and optimism to life. Through songs that uplift, inspire and encourage the listeners, the Project Hope album is a distinctive album that will speak to all Zimbabweans.
Musical giant Oliver Mtukudzi has a song titled 'Tariro' on the album that will provide Zimbabweans with a sense of encouragement and strength while popular contemporary musician Jah Prayzah song 'My beautiful Zimbabwe' plays homage to Zimbabwe's beautiful landscape and culture as well as vibrant people. One of Zimbabwe's youngest musicians, Tamy Moyo of 'Beautiful Ndozvandiri' fame, lends her powerful sensuous voice to three songs on the album while jazz sensation Prudence Katomeni soulful voice is also heard on the album on the song 'Rise Up'. Also on the album are refreshing new voices of Starbrite runner-up Petros Pjay Zimuto; and Paulla Paloma as well as guitarist, composer, singer, songwriter Sam Siwela as well as the captivating, powerful voice of Faith Mucha. Renowned Afro-fusion musician Alexio Kawara together with versatile contemporary artist Hwabaraty also feature on the album making the album very rich in musical diversity.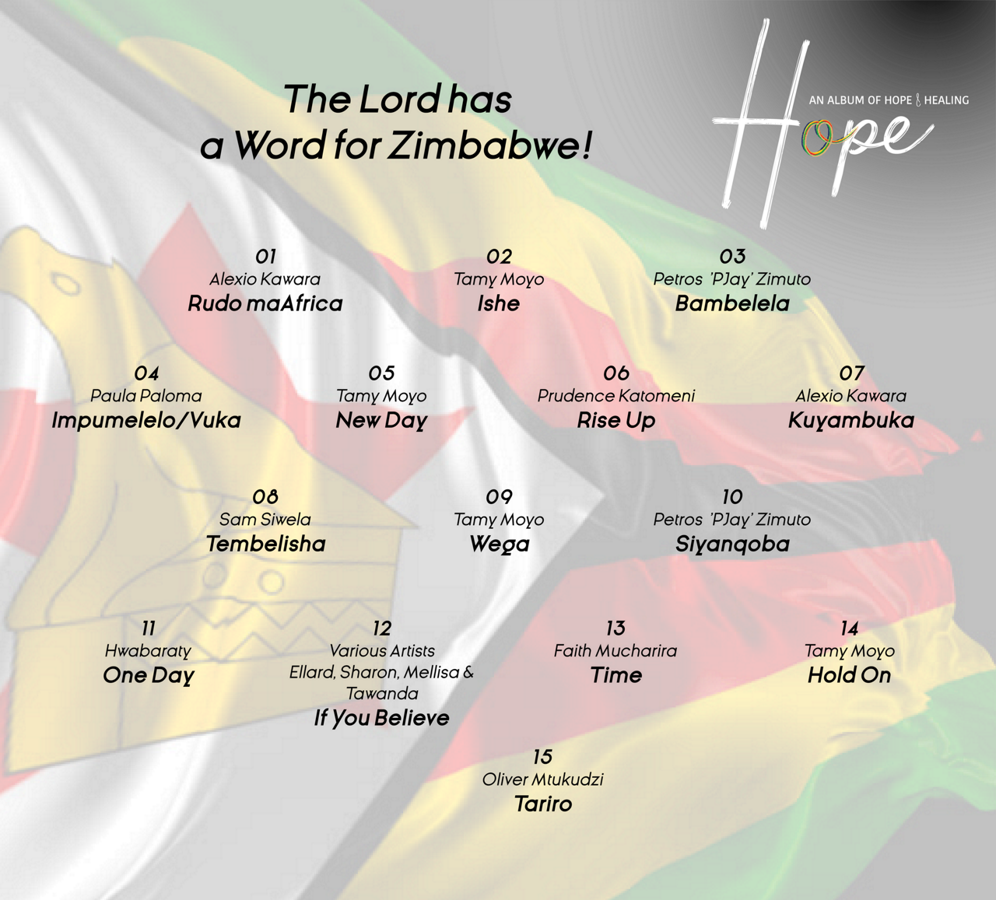 The Project Hope album is free and is available to download on Oyos Music Store here: https://goo.gl/XEWozU
For more information, promo requests, or to set up an interview, please contact Mabel Gunda on mabel.gunda@higherlifefoundation.org
+263 (0) 771 222 627
About Higherlife Foundation:
Higherlife Foundation is a social impact organization raising young African leaders through education by providing platforms for them to fulfil their God-given purpose. Founded by Strive and Tsitsi Masiyiwa in 1996 out of their personal convictions, the Foundation seeks to move the African continent forward through education and opportunities. Learn more at www.higherlifefoundation.org
---