On the 18th of June 2017 Higherlife Foundation partnered with The ENDFund in the highly anticipated Econet Victoria Falls Marathon. Developed in conjunction with the National Athletics Association of Zimbabwe, the Victoria Falls Marathon gives both local and international runners the opportunity to experience the incredible thrill of running whilst enjoying amazing landscapes and views of wildlife in the resort town of Victoria Falls.
The 2017 edition of the marathon saw over 3000 participants converge into the majestic town of Victoria Falls. Higherlife Foundation and The ENDFund collectively featured a 35 people team which included the Higherlife Foundation Co-Chair Mrs. T. Masiyiwa (who is also an ENDFund board member) her family and a couple of ENDFund board members to "Race To See The End" of neglected tropical diseases. This initiative was championed by the ENDFund who are a non-profit organisation leading the fight against neglected tropical diseases namely Intestinal worms, Schistosomiasis, Lymphatic Filariasis, Trachoma and River Blindness.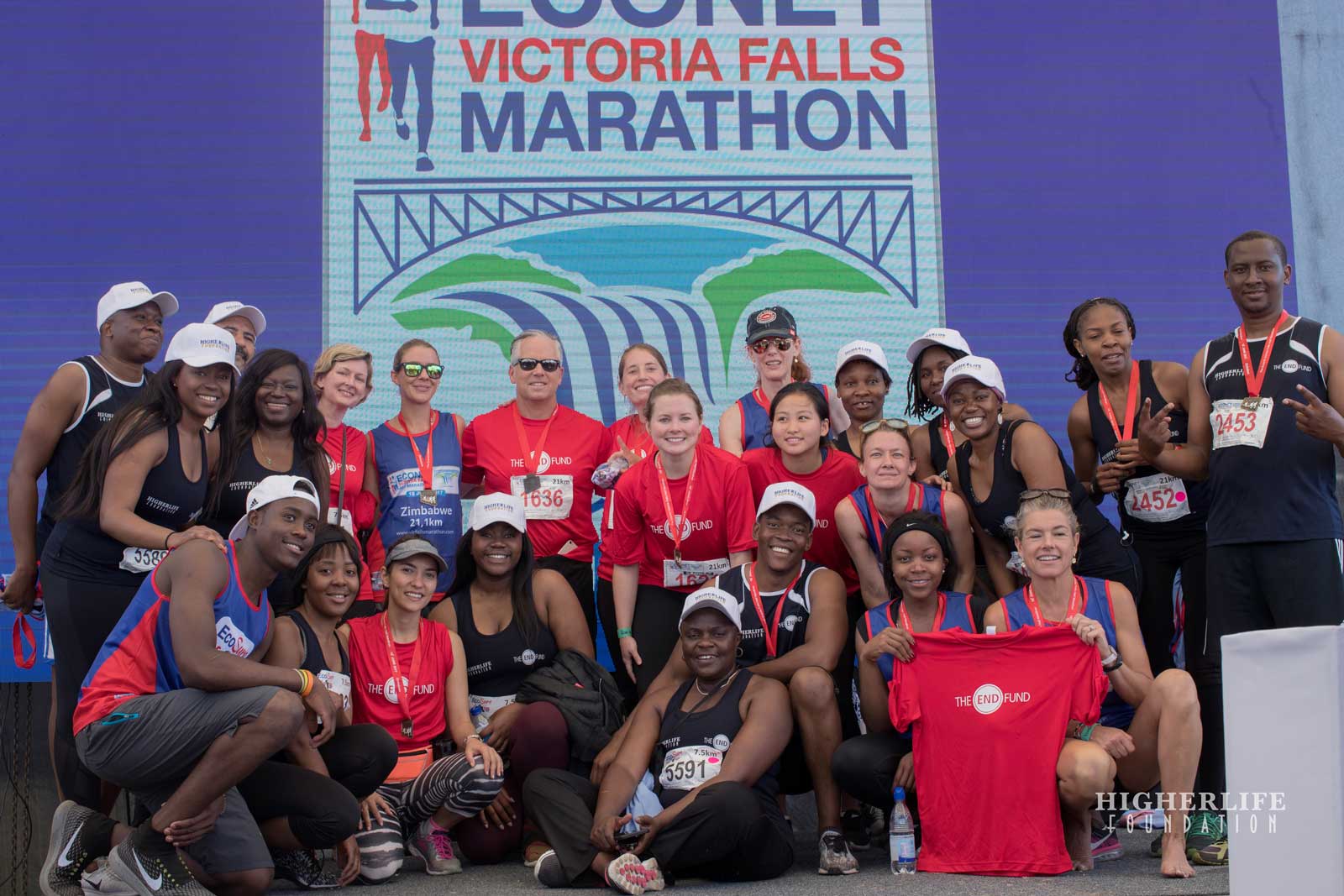 Known as one of the most scenic runs on the African Continent, the marathon gave participants an opportunity to showcase their athletic prowess through varied marathon race routes. Runners had a choice of a full 42.2km marathon a 21.1km half marathon and a 7.5km fun run. The Higherlife Foundation- ENDfund team featured 1 runner in the 42.2km marathon, 16 runners in the 21.1km half marathon and 18 runners in the 7.5km fun run to create awareness of neglected tropical diseases which affect close to 6 million people in Zimbabwe.
The 21.1km half marathon which saw over 1300 entries was the most popular race at the event with 1165 successful runners while the grueling 42.2 km full marathon had over 300 entries and 270 successful participants who completed the race. The marathon saw a cosmopolitan running crowd and fitness fanatics from all over Africa running for different causes, all to make Africa a better place. Excited runners also wore their country flags, giving the event a festive feel which made the event a memorable running experience.
The 11th edition of the marathon was larger than all previous marathons. We look forward to a bigger and better 12th edition in 2018 and hope you will join us as we make Africa a better place through sport.
---