Lift Up Africa, a 90-day prayer campaign run by Global Intercessors with support from Higherlife Foundation is now entering its third week.
The campaign that started on 23 January and will end on 22 April has shown great promise, with all the invited prayer leaders expertly leading intercession in a way that shows anointing.
To date, 26 prayer leaders, including Mrs Tsitsi Masiyiwa, Pastor Rukudzo Wazara, Bishop Never Muparutsa, Ms Petronella Maramba, and Reverend James Sibanda, have delivered God's work word with outstanding clarity.
A diverse range of prayer themes have been placed before the Lord, not limited to national pride, A believer's role in national transformation, and the protection of women and the girl child, to mention just a few.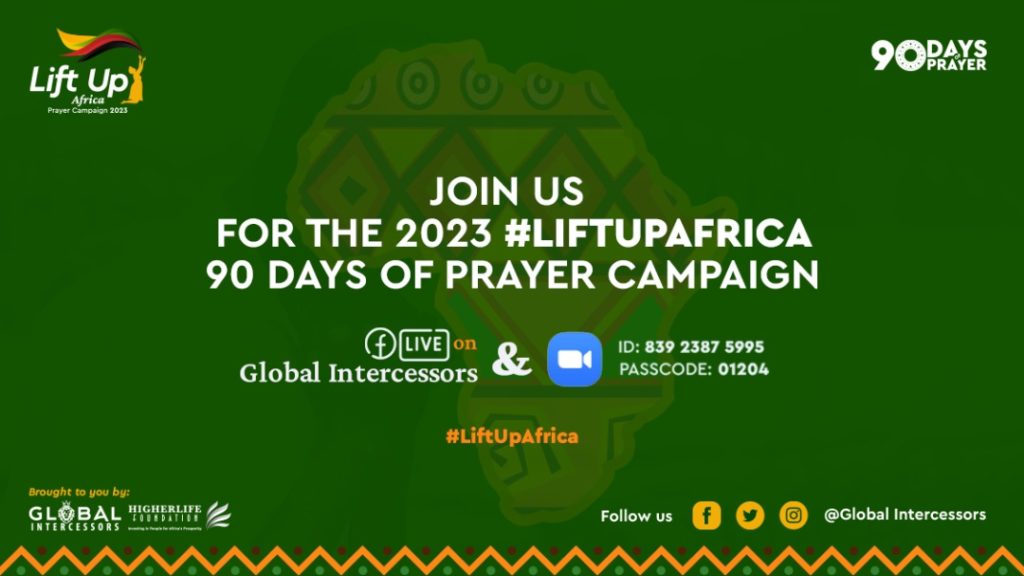 As the campaign continues to gain momentum, numbers on online platforms are growing as believers from different African countries catch on to the wave.
Pastor Philani Nyatsanza, the Higherlife Foundation Chief Executive Officer for Zimbabwe, recently explained why it is crucial for the organisation to support the Lift Up Africa Prayer Campaign.
"There are people who are asking why are we praying? Why are we spending so much time and resources on this campaign? Genesis Chapter 4 vs. 26 says that man started calling him God. So, part of prayer is calling on God. Revelations Chapter 22 vs. 20 says, 'Come Lord Jesus'. It starts with calling on God and ends with calling on God. If you read 1 Corinthians 16 vs. 22, you see the whole story of Redemption built around prayer. Redemption is God extending his grace and mercy for man to receive the plans and life he has for each and every one of them. God's constant call is, 'come back to our relationship, talk to me, let me know what is bothering you, and I will answer and make a way for you.' Man ought always to pray. Prayer is more than conversation; it is relating with God, reaching out to God, finding God, and walking with God. There are even examples of it being like having a meal with God, and they call it fellowship."
"In prayer, we got to be deliberate to meet with God and enjoy the best fruits of prayer. This is why we have the Lift Up Africa Prayer Campaign, to say we set aside 90 days to call on God concerning specific things."
The journey continues as an exciting line-up of prayer leaders will preside over prayer sessions until the end of the campaign. Join us in intercession as we speak to God about our beautiful continent.
Here is how you can join the Lift Up Africa Prayer Campaign:
https://us06web.zoom.us/j/83923875995?pwd=QmVJcGpmRys1aWlvWCtZdzZKLzFRQT09
Meeting ID:8392387 5995
Passcode: 01204
---