Tadiwa, an 11-year-old Grade six student in rural Zimbabwe has missed school for more than a week.
She has a distended stomach, nausea, pain, and dizziness.
Tadiwa is well known for playing in a nearby stream, the only water source for her village.
Today Tadiwa visited the clinic, where she was diagnosed with intestinal worms otherwise known as soil-transmitted helminths (STH) and treatment was started immediately. Intestinal worms are one of the Neglected Tropical Diseases affecting more than 1 billion children worldwide.
NTDs are treatable, once Tadiwa is treated she has a future earning potential of more than 20 per cent. By treating NTDs, we reduce poverty, and address inequality, and it brings us closer to achieving Universal Health Coverage.
Today (30 January 2023) is world NTDs day when the world converges to raise awareness of the impact NTDs have on low-income populations. Higherlife Foundation supports the call to action from WHO "Act Now. Act Together. Invest in Neglected Tropical Diseases," which is a passionate call to stakeholders to increase resources in the fight against NTDs.
Unfortunately, as the name suggests, NTDs are neglected in terms of inadequate investment and health prioritisation which spills to the core group of people they affect. But we do have the ability and capacity to end the neglect by bringing renewed attention to NTDs, building political will, and mobilising resources toward their elimination.
Zimbabwe recently updated the NTDs masterplan strategy from 2023 to 2030, which is critical in the fight against NTDs. The NTDs masterplan is the roadmap that outlines what it will take for the country to reduce the burden of these diseases through various public health interventions.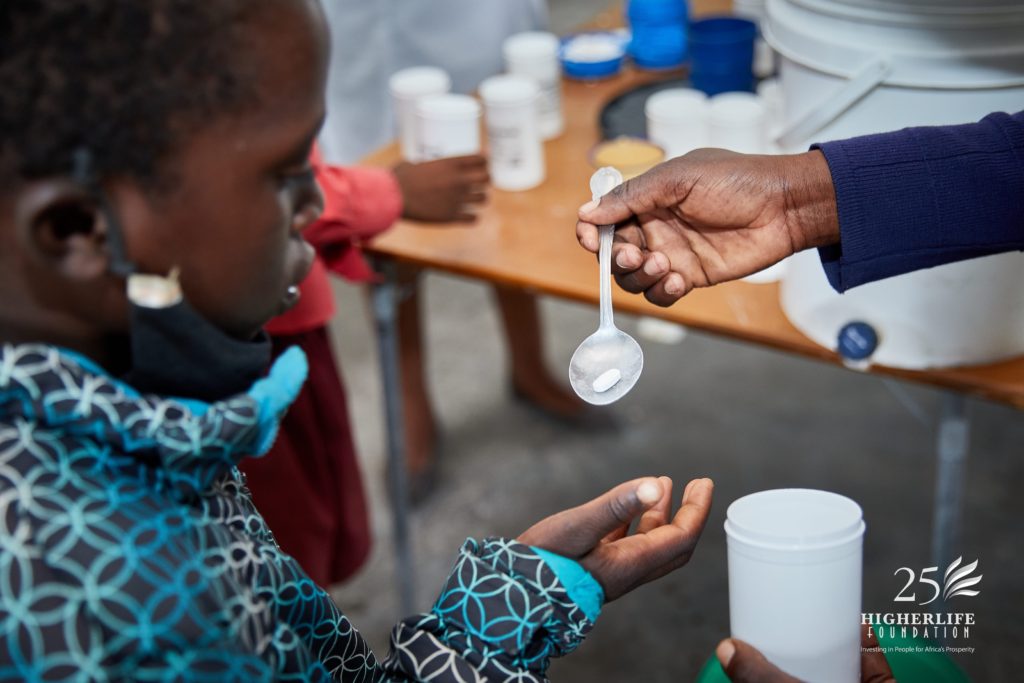 So, what are NTDs? They are a diverse group of 20 conditions mainly prevalent in tropical areas, affecting people who live in communities considered to be 'poor'. NTDs can cause blindness, disfigure limbs, and significantly affect the economic growth of entire nations.
Ten NTDs are common in Zimbabwe: schistosomiasis, soil-transmitted helminths, lymphatic filariasis, blinding trachoma, rabies, leprosy, sleeping sickness, anthrax, plague, and snake envenoming.
About 10 million Zimbabweans require treatment for at least one NTD. It is, therefore, imperative that we all come to the table to eliminate these diseases. By tackling NTDs, we will reduce poverty through ensuring that children stay in school. We will also eliminate impairments which sometimes result from the presence of these NTDs.
The provision of Water, Sanitation, and Hygiene (WASH) has the potential to reduce the prevalence and incidence of NTDs.WASH plays a significant role in the fight against NTDs; WHO states that if 60 percent of households in endemic areas have access to clean water, it will go a long way in reducing the prevalence of these diseases.
Achieving our national goal of eliminating NTDs requires a cross-section of multiple stakeholders to commit and participate in the programs that lead to elimination. Public-private partnerships in the health sector have proven effective in strengthening health systems and saving lives.
The global and local response to the COVID-19 pandemic from the business, development, philanthropic and public sector illustrates that where there is the will and common purpose, we can overcome many of these public health challenges.
The Ministry of Health and Child Care has partnered with local and international organisations since 2012 to break the transmission of schistosomiasis and STH.
At Higherlife Foundation, we are committed to supporting the MoHCC in implementing MDAs for bilharzia and intestinal worms, providing resources and technical support for training and implementation. The campaign is also supported by medicines through WHO, which also provides technical support to ensure smooth implementation. The collaboration and sharing of roles are in recognition that everyone has a crucial role to play.
We call for more partners to join in the fight against NTDs. We need the Government to allocate more funding towards elimination. The private sector should also look at what contribution they can make to ensure that Tadiwa and her classmates are protected and can stay in school. Through collaborative work with stakeholders, we can reach a level where NTDs are no longer a public health concern, and our communities are neglected no more.
*The minor`s name has been deliberately changed.
Op_Ed by Dr Kennedy Mubaiwa, Higherlife Foundation CEO.
Dr Kennedy Mubaiwa is the Chief Executive Officer of Higherlife Foundation, a social impact organization that is investing in Human Capital Development for Sustainable livelihoods. He is a medical doctor from the University of Zimbabwe, an Anaesthetist and he also holds an MBA. Dr Mubaiwa has held senior roles in the Pharmaceutical Industry in Africa, including being Medical Director for Eli Lilly Southern Africa, and Executive Director at Adcock Ingram Africa.
---