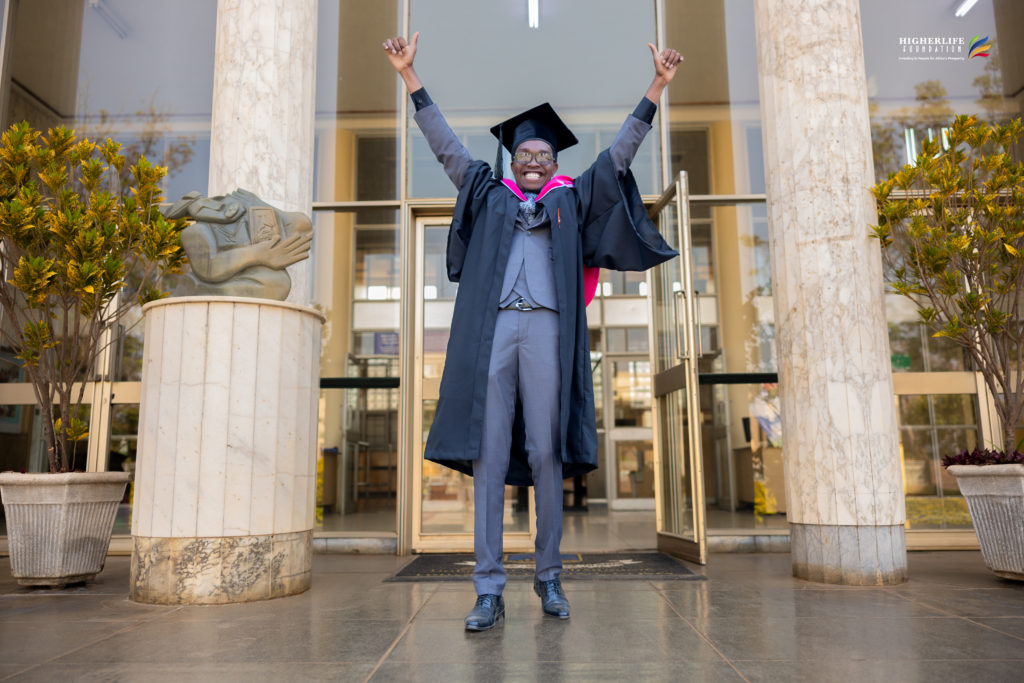 Shepherd Mjanga grew up admiring his cousin, a medical doctor. His cousin would periodically go to rural areas to offer free consultations to underprivileged community members. From the images he would see, he felt inspired to be a doctor once he came of age. In his imagination, one day, he would stand with his cousin, treating people in rural communities. Unfortunately, his cousin died before his dream could become a reality.
"When he died, I was hurt. I wanted to learn from him, as he had always inspired me. I now want to fill the gap he left, and I know many people need health services but cannot afford them," he says. The loss further encouraged him to study medicine. Armed with a dream but without enough resources, Mjanga applied for the Joshua Nkomo Scholarship offered by Higherlife Foundation – he was successful.
In 2020, he enrolled for the new Bachelor of Biomedical Science Degree at the University of Zimbabwe. "The program was new, with some challenges, especially in the Covid-19 era. I survived through the support system offered by Higherlife, especially the 90-day prayers which uplifted my spirit," says Mjanga.
He was among the 78 students supported by the Higherlife Foundation who recently graduated from the University of Zimbabwe. Mjanga`s Bachelor of Biomedical Science is the first of two degrees he needs to practice medicine in Zimbabwe. He immediately returned to class to continue reading for a Bachelor of Medicine and Bachelor of Surgery (MBChB), which will take a further three years, taking the total program duration to six years. All of the six years are under Higherlife Foundation's support.
Mjanga said he intends to eventually become a Public Health practitioner who designs systems that eliminate inequalities in global health systems. "I want to be a doctor for the whole country or continent. I want my expertise to benefit more people than the few patients I would engage with. This is why I want to end up in Public Health. My cousin had a vision to transform lives using medicine, and I want to fulfil some of the wishes he held but failed to bring to life," he says.
---