When I applied for the Yale Young Africa Scholars (YYAS) Program I didn't know what it was about and neither did my schoolmates whom I applied with. I did my best in the application and months down the line I received an acceptance letter. The adventure had begun; I was among the 100 top performing students in Africa to attend the program at Arundel Girls High School in Harare from 20th to 26th of August 2016.
I arrived at Arundel at 1300hrs of the 20th and was greatly welcomed by the ever smiling staff which helped us with our bags and checking in. We had orientation and afterwards went for afternoon tea to meet and interact with each other since we were all new to the environment. We then went for our first lecture with Ian Shapiro a lecturer at Yale University and he taught us about democracy we learnt a lot about the differences between real democracy and democracies under dictatorship.
We learnt about the six democracies in the world which include the USA and Britain, only to mention a few. This was an overwhelming lecture in which we learnt a lot about our African governments. Dinner was served at 18:00hrs after which we went for a mentorship talk with our mentorship leaders where there was a small student to teacher ratio of 1:7. The mentorship talk was very interesting and educative as they taught us about how to apply to US colleges and write perfect essays. The first day ended with an 'icebreaker' to remove the tension in the room and to enable students to meet and interact with new people.
The following day, we started with breakfast and then a lecture from one of the Yale lecturers. The lecture was on African history and it was very interesting. At the end of that lecture we were given the opportunity to ask questions. We then went for the discussion session. These really helped because we could ask further detailed questions to our discussion leaders and even debate with the other scholars.
We had lectures with other influential people like Rachel Adams who greatly motivated us and personally I enjoyed her lecture. Other lectures were with some of the Yale lecturers like Eddie Mandhry, Dan Magaziner, Ted Wittenstein and also from other successful Africans like Douglas Mboweni the CEO of Econet wireless Zimbabwe, Mr Masimirembwa a Zimbabwean based scientist who taught us to be responsible young people who would help make Africa a better place.
Apart from the lectures we had seminars which helped us to understand the current situation in Africa. For example ivory poaching in Africa and ways to stop it spreading on the continent. The lectures were enriching, giving us knowledge and at the same time giving us an experience of what college seminars would be like in the U.S. We were taught to respect everyone's point of view and never to offend others or to think you know better than everyone else because you can actually learn from others.
The lectures were led by instructors who have experienced college life. The instructors made the classroom environment friendly and sociable so as `to create a free environment for interaction, discussion, and debates. We worked with a team from CATES HQ which helped us make our decisions in which tests to take and they gave us insight into what the SAT and the ACT are like and the skills you need for each of them.
We met admissions officers from different universities and we conversed with them about their student selection, admission requirements and procedures. It was an interesting adventure as we learnt a lot about making yourself marketable to different universities. These admissions officers were from Michigan State University, Brown University, and University of Pennsylvania. This was an opportunity that we never thought we would get; it was an opportunity of a life time. We asked different questions to current university students on any issue.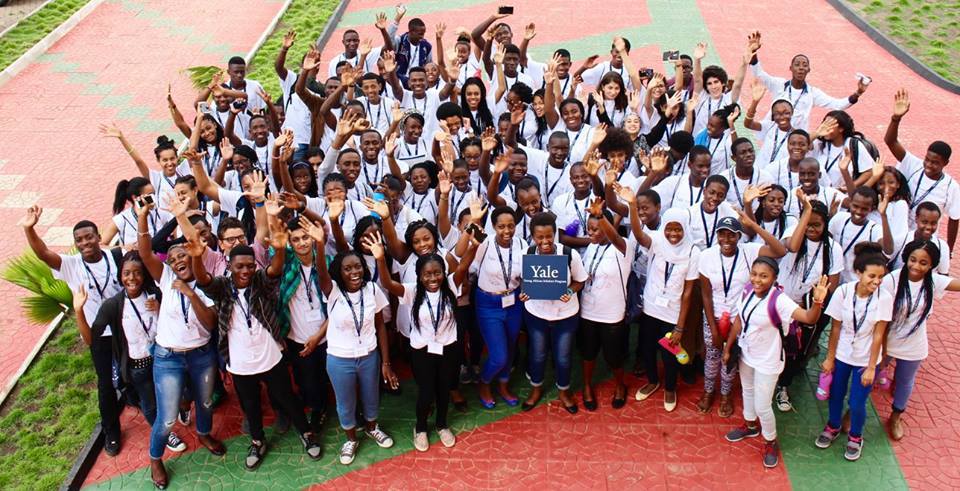 Even though it was a busy schedule we had time to have fun and enjoy ourselves away from the lecture rooms. For example, we did a game on crossing the river. It was more than just a game and it had a lesson on teamwork, leadership and coordination in life. Apart from these fun activities we had family time. We each had a family were we would tell and discuss problems we were facing and how to solve them. We also had a project group on Afrotopia, where we assumed the whole population of the African continent had died and there were 15 survivors and we only had to choose 5 to survive. It was an interesting activity and each group had to present their ideas to everyone else. During meals we also had special times to talk about university life and how to solve problems in different circumstances like racism.
The YYAS team gave us an opportunity to meet different people from across the country and across the world including the YYAS alumni. This was at the YYAS mixer night and it was in form of a cocktail party. Personally, I had the opportunity to meet many high profile people including the executive director of Higherlife Foundation Mr Fungai Mandiveyi among many others. It was an overwhelming experience. On the last night we were each awarded with certificates and then followed a talent show. It was an interesting event in which we saw different talents from different parts of Africa. These included dancing singing, poetry and comedy.
YYAS was an interesting program and I learnt a lot about leadership skills, life in the U.S and my continent Africa. I had the opportunity to learn about many different African cultures. I learnt of native African names which include Nqobani, Estifanos, Estub, Haiminot, Momvuselelo, Katlego, Chimwemwe, Tsion, Thenji, Ife, Yebsira and also our local Shona names like Watifadza only to mention a few. I learnt all their wonderful meanings and also the wonderful people they were. I honestly will never forget this experience and the wonderful people I had the opportunity to befriend even if we never to meet again. This was surely the best week of my teenage life.
By Rowland W Chitsunge YYAS Scholar 2016
St Faith's High School
Source: www.pachikoro.co.zw